Meet one of our interactive solutions for Stands!
We conceived and built, for the ASER Stand, a billboard with an interactive personalized app in which, among other things, it is possible to make a small questionnaire to test the participants about the company's history.
The Stand was present at the Expomecânica Fair, at Exponor, in Porto and it was a success!
Why should you implement Interactive Solutions in your Stand?
There are several reasons, in short, the implementation of interactive solutions in stands has proved to be an effective solution not only in attracting the fair public to your stand, but also in helping to create a connection with the brand.
When implementing on your stand solutions with which the public can interact, is not only attracting attention, but also increasing the time that visitors spend at your stand, where they can discover more about the brand and develop a greater interest, this interaction that the public has it also ensures that your stand and, by extension, yours will be one of the hallmarks in their minds when they leave the fair.
Are you not convinced by the quiz idea? It's not a problem. At RSB we know that each brand is a brand, with different personalities and identities and that is why we have at your disposal several digital and interactive solutions that will make your stand the center of attention.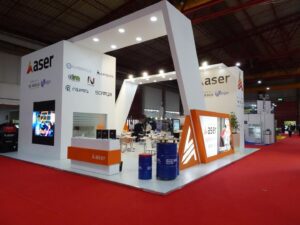 Do you need some ideias? 3 Digital Solutions that will Highlight your Stand
Discover Our Digital Solutions
Custom Exhibition Stands? RSB has it!